Don't be a jogger........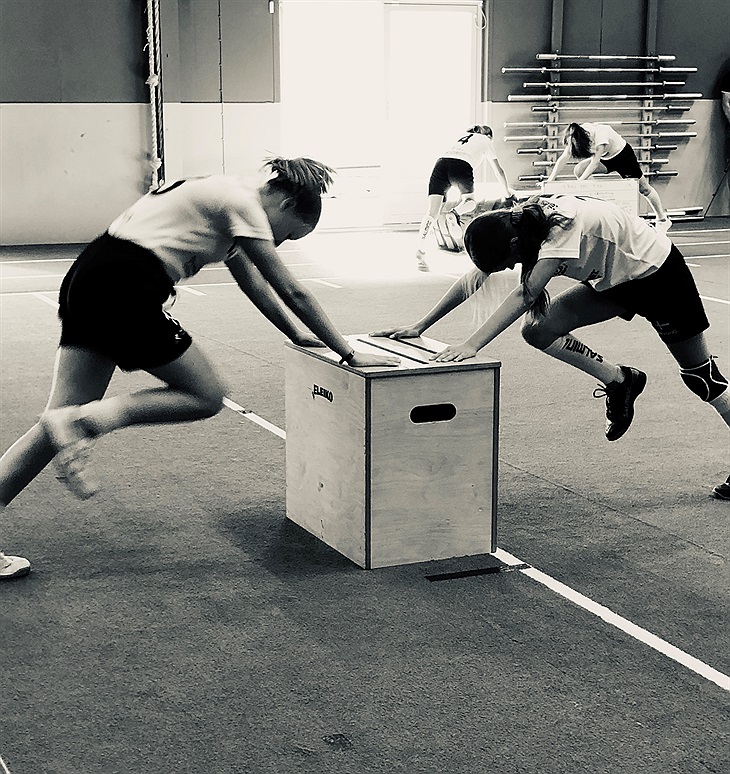 Täby F06 Gribby training at UP Uppsala
Training camp done and dusted; check. After a full and eventful weekend in Uppsala we returned home to Täby running on empty. This was our second year at the IFU Arena and we were in good company; surrounded at the hotel with both the herr & dam U19 national team. We "topped & tailed" the weekend with 2 sessions with the brutal but kind (is there such a thing?) UP Uppsala team working on some extra fitness; with the focus on stability, movement and speed. There was something for everyone; Nora and Ebba did their own special training; both recovering from injuries but on the road to recovery. I was impressed with progress I saw even in such a short time; if everyone can improve 1% we can have 1000% impact. An internal training match followed before a group of exhausted girls headed off for some "me-time".
On Saturday morning our 3 super goalies; Nora, Perla and Gabbi got to focus on their skills ahead of the first of 2 training matches against IK Sirius F06 and Vaksala F06 Gul; 50/50 success and challenge and the coaches were happy. In between all of that we managed to eat a proper lunch and then attack Klubbhuset with a major trying-on session for new match kit; it wasn't pretty (organised chaos in the changing rooms) but it worked and I promise to double/triple check the orders. We're in the awkward phase for many of the girls who are somewhere in between 164 and S but nope, XS does not exist.
Fast forward to an early start this morning with 2 matches against Rosersberg Arlanda IBK and SK Vide; 100% success with 6-1, 6-1 on the scorelines. A big thank you to both Pernilla and Ulrika (Tuva L & Alice) who worked seket on each day.
We now know we need to focus on putting the same effort and energy into our routine training that we do in matches, so we can keep up the pace and pressure; if you put in the effort you make progress. If you don't. You don't. And, run like you mean it; don't be a jogger (on the plan). They're the ones that find dead bodies.
Huge thanks to our coaches, Kalle A, Anders, Otto, Johan, Mathias and Kalle U. for all the hard work and effort that goes into making these weekends so effective. Team spirit revived. Check!
Over and out and exhausted.
---