Slow burn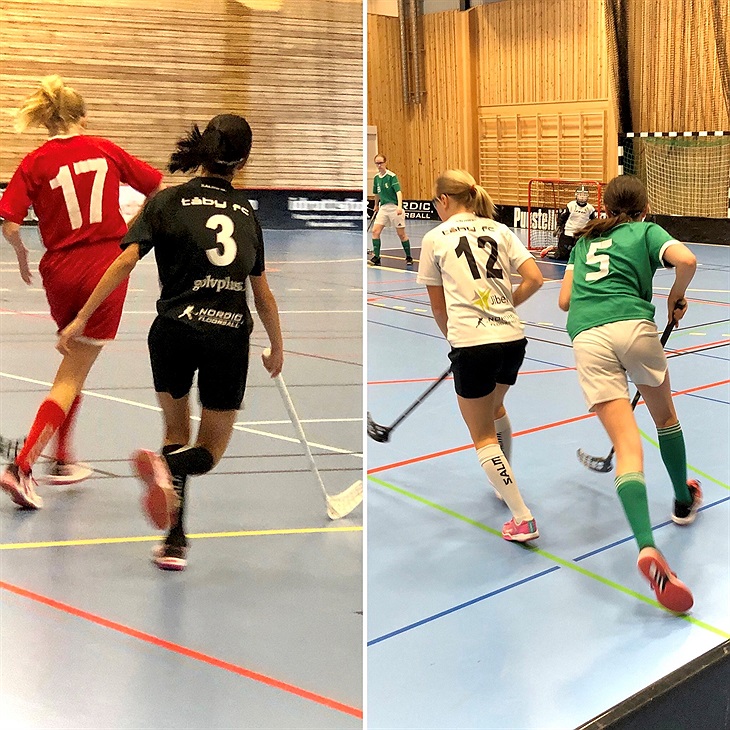 Täby FC F06 Gribby: From Huddinge to Hägerneholm
Back into the rhythm this weekend with two matches; a draw in the first against Huddinge away and a win at home against Sundbyberg. In the Huddinge match we equalised with 1.5 minutes on the clock to end the match 2-2; there was a real "will-to-win" from all players. We had the pace, we passed well and were not afraid to face each tackle head-on. It was tough but even match with some players "running-on-empty" in the closing minutes; an all out effort and a well-deserved draw. Goals came from Tuva Ö and Matilde with India and Evelina assisting .
In the second match against Sundbyberg, we gave them a little too much space but it was a good fight. There were good intentions and we passed with a purpose and whilst it wasn't pretty, it worked. In the closing minutes, you could sense a fair bit of exhaustion; plenty of thrills and spills with players on both sides tumbling. Brings a new meaning to the word "floorball". Goals came from Tilda B, ass Evelina and Tilda N, ass Cornelia. A win is a win is a win.......
Physical fitness will continue to make a huge difference; we have a solid programme in place that requires continued effort, engagement and 100% focus from us so we can continue to elevate our game to even higher levels; when it gets tough, and everything hurts; embrace the challenge and push on through (make that a dinner table conversation this week). This is what will make the difference and quite frankly, who doesn't want to be the best version of themselves?
And of course, two sharp goalies this weekend; Perla and Nora who are so good at just "keep on keeping on"; they keep their cool (and running commentary) at every match.
So, see you next weekend at one of the matches? Come on. It's fun to watch. Really.
---